From April 2022 Nenkin Techo is no more issued and JPS issues its alternative
Japan Pension Service (JPS) had issued Nenkin Techo (年金手帳, Pension Handbook) to every member of Japanese pension systems, Kokumin Nenkin and Kosei Nenkin. However, from 2022 they don't issue Nenkin Techo anymore, and instead they issue Kiso Nenkin Bango Tsuchisho (基礎年金番号通知書), meaning "Notice of Basic Pension Number", to members of Japanese pension systems.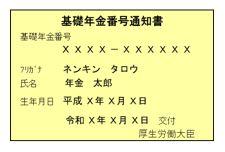 Kiso Nenkin Bango Tsuchisho is a card smaller than Nenkin Techo, whose size is like (Japanese) Driver's License Card. It shows essential data of each pension member such as Basic Pension Number, registered name and date of birth.
For non-Japanese who start residing in Japan from April 2022 and after, with or without being employed, JPS only issue Kiso Nenkin Bango Tsuchisho. Non-Japanese who have already resided in Japan since before April 2022 can continue using their old Nenkin Techo, though.
Please be sure to keep your Kiso Nenkin Bango Techo in order to know your Basic Pension Number. For the reason why you need to know your Basic Pension Number, please see this article of our blog.
For Detailed Information..

YouAT LLC gives you services for Japanese pension and tax refunds
We YouAT LLC has more than 10 year's history to support non-Japanese employees' "Lump-sum Withdrawal Payments", "Old Age Pension", and income tax refunds.
We have staff of Labor and Social Security Attorney, Administrative Scrivener, and Tax Accountant.
Please feel free to contact us for Japanese Pension and Tax Refunds!
YouAT LLC website — > www.youat-jp.com/
Email –> info@youat-jp.com
(Oda Mitsuo, YouAT LLC)